5 Steps to Breaking the Habit
I provide a single 2.5-hour intensive session in which we will delve deep into the puzzle of your habit, unravelling and solving it layer by layer, consciously and subconsciously. This session is conducted via Zoom, in the comfort of your home or another suitable location. 
Once you have booked using my online appointment system, I will send you a link to a Client Questionnaire to complete before your session. This questionnaire must be completed online or emailed no later than 72 hours before the session. I will also send a document of Pre-Session Guidelines. Reading and following these is essential to ensure you get the most from the session and give yourself the best chance of success as a non-smoker.
1. Book Your Session Online
Access my online booking system to find a suitable date and time for your appointment. If you cannot find a session slot to suit, then please contact me to see if I have any other or late availability. Once you have booked and paid for your session, an email confirmation will be automatically sent containing the session Zoom link.
2. Complete Pre-Session Requirements
Within 24 hours of booking, I will email you a link to a confidential Client Questionnaire and a Pre-Session Guidelines document. 
This form is VERY important to complete and must be submitted or returned no later than 72 hours before your scheduled session.
The document is a detailed clinical questionnaire and an integral part of the process with my method. Therefore, I recommend taking the time, perhaps with a cup of tea or coffee, to reflect on your answers. As a general rule, the more engaged a person is with the questionnaire, the more likely the chance of success as a non-smoker.
It is easiest to complete the questionnaire using the online form. However, there are also links to a Word and PDF on the form submission page if you wish to complete the document another way and then email to my secure address,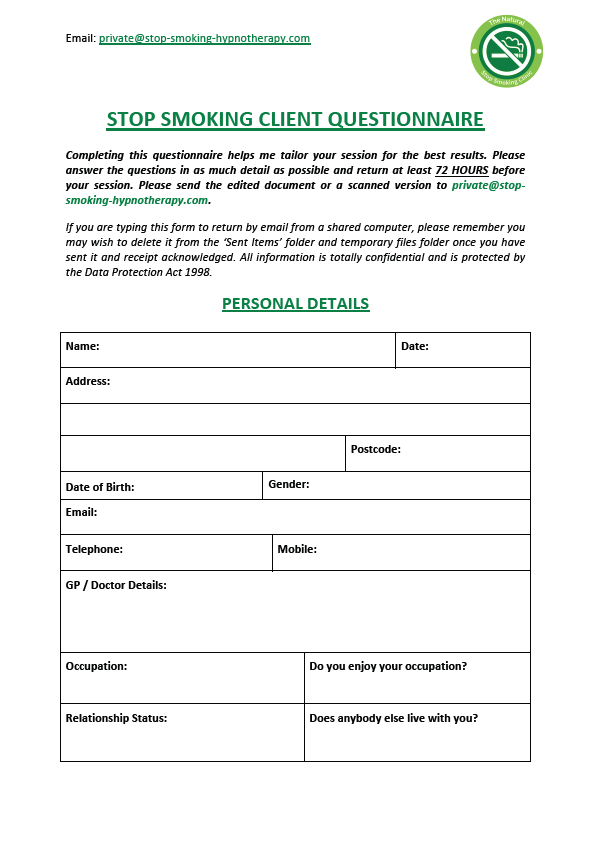 Over the years, I have identified the preparation, behaviours and mindset that best make for a smooth and successful stop smoking session. There are also equivalent 'red flags' that should be avoided. Simply knowing these can be useful to ensure you don't accidentally walk into traps that could thwart your progress as a non-smoker.
Reading and following the tips and guidance in this document is recommended to ensure you are in the overwhelming majority of people who break the habit in a single session. The document also includes advice on preparing for the Zoom session, particularly making sure that the video call itself goes smoothly (this is very important for the hypnosis part).
3. Attend Your Zoom Session
The session lasts 2.5 hours and is tailored for each client. However, all sessions will have a 'Eyes Open' and a 'Eyes Closed' element.
Eyes Open Part:
Using my approach, The Storyworking Method, we will explore your narrative as a smoker, reshaping it into a narrative of triumph and liberation from the smoking habit. I will also help you explore your smoking triggers and equip you with robust strategies to overcome them, forging a new, healthier response to stress and daily life.
In the second part of the session, it's time to relax and enjoy 40-50 minutes of tailored hypnosis, reinforcing your resolute decision to embrace a non-smoking identity. You may move to a different room or switch to noise-cancelling headphones for maximum immersion. Just ensure there is nothing in your environment to disturb you during the hypnosis.
4. Follow Post-Session Guidance
The comprehensive approach taken in the session will have addressed not just the habit but how being a non-smoker will fit into your life as a whole. Based on this, I will provide practical tips and guidance to help you adjust to a healthy, smoke-free lifestyle, harmonising your mind and body for the change. I will also send you a download link to a self-hypnosis MP3 audio to listen to for the next 30 days to help maintain focus on your new, healthier life as a non-smoker.
5. Enjoy Life as a Non-Smoker!
A big part of breaking the habit is 'learning to forget,' which happens naturally when your mind is pointed in the right direction and you simply get on with life. Whether you have given up tobacco, vaping, or cannabis, it's an outstanding achievement, and you should feel proud of your success.
If you ever need a top-up or to boost an area of wellbeing as a non-smoker, I provide 1-hour follow-on sessions at my lower hourly rate. Having experienced the benefits of my approach to hypnosis, many clients want to explore other areas of life or work they can apply it to. You can find out more about other sessions with me here.